Technology is advancing rapidly, especially in the automobile industry. Each year one can see a change in the dashboard systems with modern touch and upgrades. However, the base material, which is plastic or carbon fiber, remains the same.
These materials make the design look tacky, well-finished, and sleek, but it also brings forth another aspect to take care of, i.e., cleaning. Clean car interior plastic can be a hassle and add to your current work.
Of course, interior car plastics need your attention as much as the outer layer. Well, the good news is that there are easy tips to make the process seamless. Even if you don't enjoy cleaning, these techniques will help you immensely to help clean your car interior plastic.
Here are some of the things that you need to buy before considering to clean your car interior plastic:
Buy a Portable Vacuum
Before you begin with the process of making your car interior shiny and new again, there are some things that you need to buy. This will be a one-time investment in maintaining your car and keeping it new. The first thing that you need to buy is a portable vacuum cleaner, preferably one that runs on a rechargeable battery.
It is easily available and can be found in car accessory stores or online shops. Its usage will be discussed further in this article. Hence, buying a portable vacuum cleaner is an excellent idea as it will be beneficial for your car.
Small Bucket
The next item that you need to buy is a small bucket. This will prove to be quite handy not only for your car but for other home purposes. However, it is advisable to keep a dedicated one to your car. This small bucket can be used for water or solution needed to get the dirt from the car interior plastic. There are a variety of buckets available online or in local shops.
You can buy the one that you prefer. The purpose of the bucket will be further discussed. A small one is preferable as it is portable and can be carried along easily.
Blotting Paper or Dry Towel
Blotting paper is usually used to pat a surface dry. The paper has the ability to absorb water molecules easily, which is a specialty of blotting paper. This can prove to be quite handy to polish your interior car surface, especially with a plastic surface. Besides this, you can also consider using a towel or microfiber cloth to pat the surface dry.
It is important that you go for a microfibre material as it is long-lasting and is compatible for cleaning purposes. You can easily buy things online or fetch them from a local store. It is also a great idea to consider using dark-colored towels.
Soft Bristled Brush
Investing in a brush is the best decision that you can make for the interior maintenance of your car. It will prove to be quite handy for cleaning purposes. Soft-bristled brushes can be easily found in stores. You should always consider buying it in bulk as you will be needing it quite often.
It is best that you can keep a spare one in your garage. Therefore, buying bristled brushes in bulk is highly recommended. Bristle brushes can be used to remove dust from places that are unreachable with a cloth. The brush is handy if your interior plastic surface has a texture.
Now that you are equipped with all the necessary components to keep your car interior plastic clean, it is time to know how to clean it. Using these tools will make the process easier and will give your car interior a new look.
Procedure to Clean the Car Interior Plastic
Here are the steps involved to clean car interior plastic efficiently;
1) Begin by Vacuuming
If the surface is dry, then you should start with vacuuming it. This will allow the surface to be free of trapped dust. Ensure that you don't use water as it will strongly let the dust sit on the surface. This will hinder the dust from being absorbed by the vacuum hose.
To efficiently vacuum the surface, ensure that it isn't wet. Then slide across laterally level by level until the whole surface area is covered. If there is a wet surface, then you should first take a towel and wipe it dry.
2) Make use of Your Bristled-Brush
Many times vacuuming itself cannot help to get rid of dust in the first place. It becomes even trickier if the dust is trapped in dents, gaps, edges, and even some cracks. This is where bristled brushes can come to your rescue. They can easily reach these places and force the dust-out. You can do this gently. When you see the dust popping out, you can then use a vacuum or a dustpan to collect the dust and dump it outside.
2) Apply a Soap Agent
There are various soap agents available in the market that can dissolve dust. Such agents can prove to be quite beneficial in helping you make your car interior new again. It can get even trickier if you have a textured interior surface on your dashboard. The action of the agent to dissolve dust and get rid of stains will become an asset to your car maintenance goals.
You can gently use a sponge and wet it in concentrated water, including the solution. Then you can wipe the surface with this solution. You can also use a scrubber if the stains are stubborn and if they cannot come out easily. For this step, it is essential that you have a bucket. You can use this to make a concentrated solution with the cleaning agent.
3) Use a Blotting Paper or wipe it with a dry towel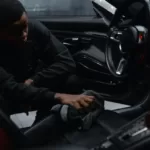 The previous step will make your interior plastic surface wet, and the water can even trip on the floor. Before this happens, you can use blotting paper to attract water. This will dry the surface and give it a polished look. If you don't have blotting paper, you can make use of a towel to wipe the surface.
However, you will need to clean the towel for future use, and the towel can be left behind with dirt marks. This step is crucial as water doesn't do well with electronics. You will have to pat the surface dry and use minimal water for the cleaning. Therefore, the previous step recommended a sponge as it controls the amount of water to be used.
The Bottom Line
Cleaning the car interior surface is not as easy as it sounds. You must be careful that the cleaning agent and water don't interact with any electronics near the dashboard. Hence, you must be skilled and use the appropriate equipment to clean the interior plastic surface. It is noteworthy that cleaning the car interior plastic with a texture can prove to be quite challenging.